Starting a makeup collection is pretty pricey. It's easy to spend a fortune on beauty products but then you have to buy brushes to apply your makeup and that can all add up, really quickly. We've narrowed down our favorite brushes to the bare essentials.
1. Foundation Brush
Starting with foundation, you want a product that works well with liquids and creamy products. A synthetic brush like the Real Techniques Expert Face Brush is ultra-firm and perfectly blends foundation for an airbrushed finish.
Real Techniques Expert Face Brush from Amazon.ca for $10.87
2. Powder Brush
The most ubiquitous of all brushes, the powder brush should be in every makeup collection because you'd use it to apply any type of powder product. I would suggest getting two, one for setting your makeup and one for blush.
To set your makeup invest in a Kabuki brush like the Tarte Airbuki Bamboo Brush. This brush is soft and sets makeup perfectly without any cakeiness.
Tarte Airbuki Bamboo Powder Foundation Brush from Sephora.ca or in-store for $35.00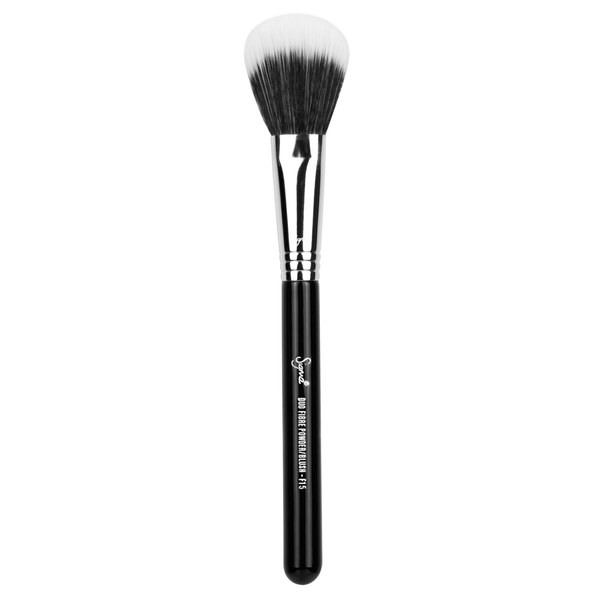 A powder brush specifically for your blush will insure that your foundation doesn't get mixed with your blush. A great blush brush is the Duo Fibre Powder/Blush Brush from Sigma. The brush gives a soft application and long lasting finish.
Sigma Duo Fibre Powder/Blush Brush from Amazon.ca for 33.81
3. Eyeshadow Brush 
Again, you should purchase two eyeshadow brushes so that you don't mix dark and light colors together.
The Coastal Scents Pro Blending Fluff Brush is ideal for shading and blending like a professional. The soft, oval shaped, goat hair bristles allow you to soften the look of powder or cream shadows by blending harsh lines.
Coastal Scents Pro Blending Fluff Brush from Coastalscents.com for $4.95
Another great brush is the E.L.F Eye Shadow Brush. This brush contours the eye with natural gliding strokes for easy and accurate eye shadow application. Oh, and it's super affordable!
E.L.F Eye Shadow Brush can be found online at elfcosmetics.com or in pharmacies.
4. Eyebrow Brush
This Anastasia Beverly Hills Mini Duo Angled Brush is perfect for any eyebrow product, from powder to creamy it picks up the right amount and never makes your eyebrows look over done.
Anastasia Beverly Hills Mini Duo Angled Brush from Sephora.ca and in-store for $23.00
5. Fan Brush 
A fan brush like this Zoeva Luxe Fan Brush helps to erase product fall out and apply a light coverage of powder makeup. This brush is a high performance powder brush and completely worth every penny.
Zoeva Luxe Fan Brush from Love-makeup.co.uk for $18.86
6. Angled Brush
Lastly, every makeup kit needs a contour brush and this Sephora Collection Pro Angled Brush puts all other contour brushes to shame. This brush helps you sculpt out those cheeks with a single sweep and the slanted-bristles hug the natural contours on your face.
Sephora Collection Pro Angled Brush from Sephora.ca and in-store for $40.00
Related content